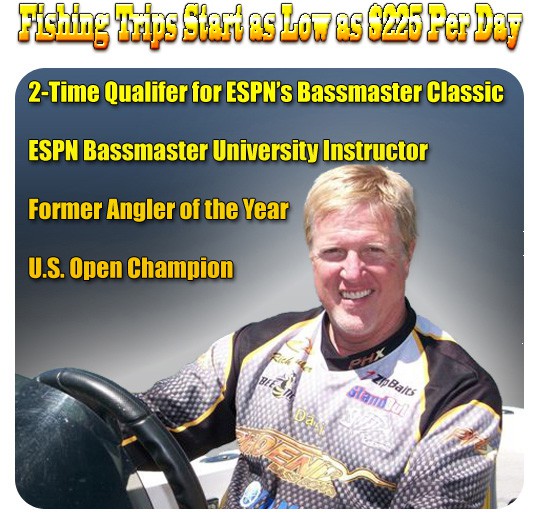 Thank you for choosing Rich Tauber Southern California Bass Fishing Guide Service. California's ultimate instructional bass fishing guide service. Fishing Lake Casitas, Castaic Lake, and Pyramid Lake in Southern California since 1977. Come and experience world famous trophy bass fishing on the hottest bass fishing lakes in Southern California. We supply everything that you'll need for your day of fishing. While in the Los Angeles area let me show you what Southern California bass fishing is all about! From the novice angler to the most experienced fishermen, families to corporate trips, I will provide you with unmatched service and overall enthusiasm to ensure a great day of bass fishing here in Southern California.
Rich Tauber Southern California Bass Fishing Guide service is unique. You will do ALL the fishing. I do not fish other than to to instruct, tutor and teach. The fishing day is yours. I'll do everything possible to make this the best fishing experience of your life. Call or text me today at 818-439-1154 for more information or to Book Online NOW click  …

Recent Lake Casitas Catches
Rich Tauber Southern California Fishing Guide Reports
Saltwater Fishing Charter Report 09/20/2017 – Here is James who went bass fishing with me about a week ago at Lake Casitas in Ventura California and he decided he needed to go ocean fishing this morning. We were done fishing at 1 PM…we hooked nine yellowtail and landed five with the largest being 22 pounds. Super fun and nonstop action big smiles all around. So fun to be back in the harbor and on the trailer by 2 PM driving home with those great feelings. Anglers interested in getting in on the hot yellowtail action can call or text me at 818-439-1154.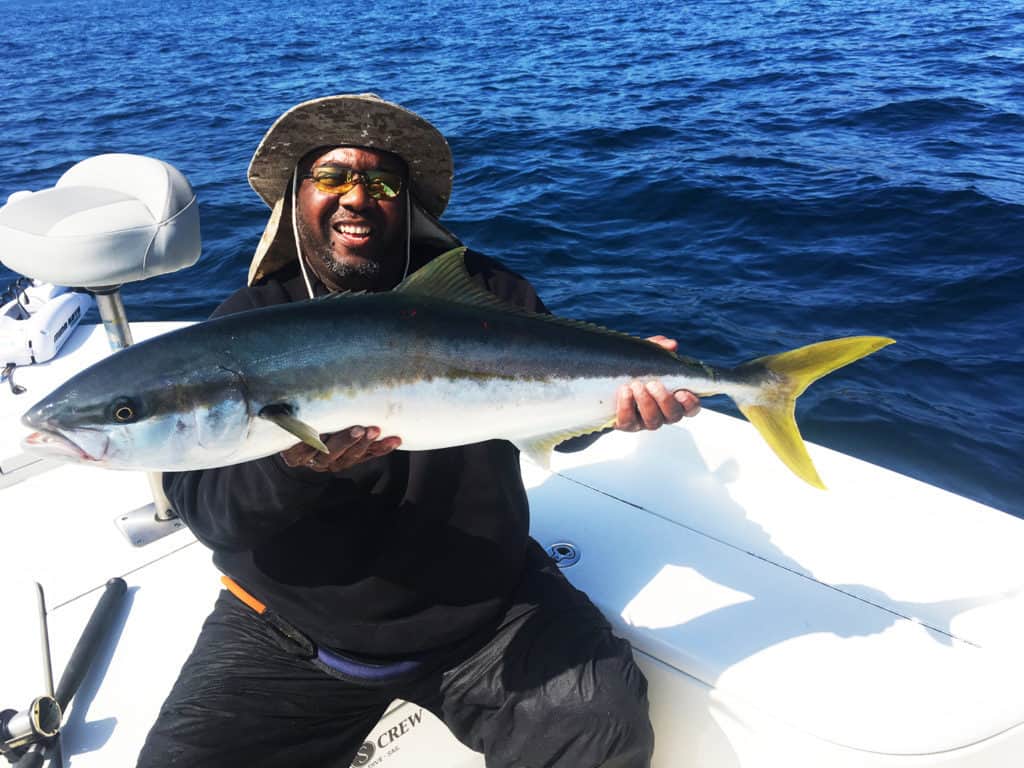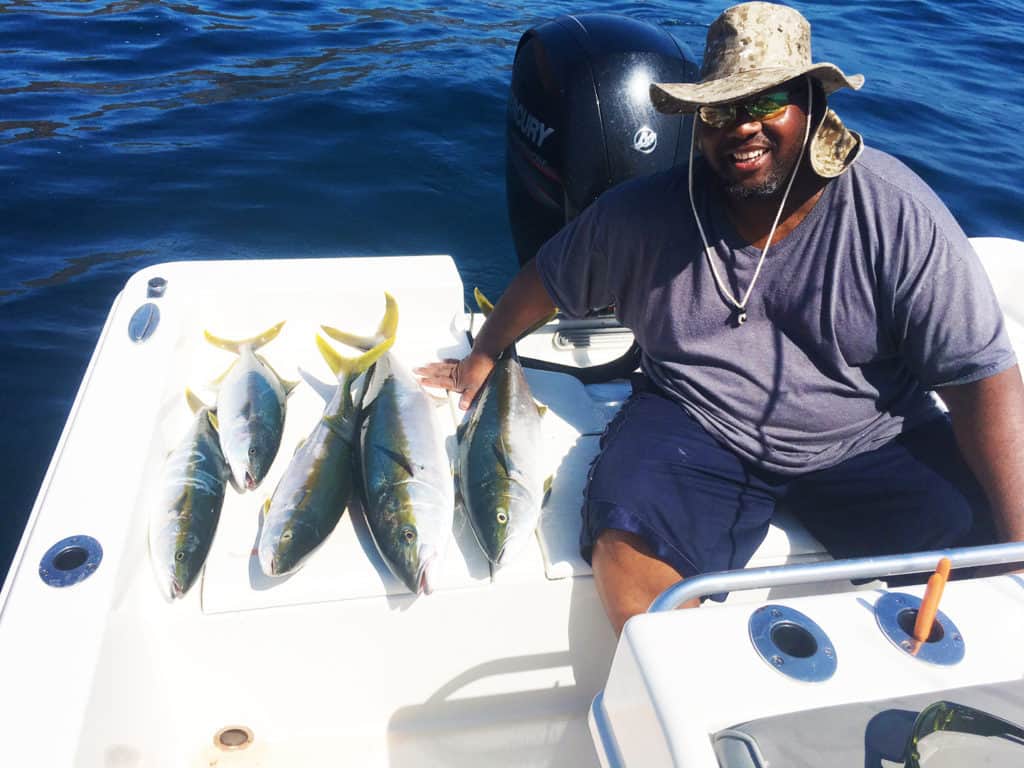 Saltwater Fishing Charter Report 09/19/2017 – Absolutely exhausted and have to get some sleep… Hooked 18 to 20 yellowtail this morning topped off by this 31 pound monster. Absolutely wide-open fishing and we're back at it tomorrow morning. Here is John Waller visiting from the Midwest posing with a bunch of fish at noon today. Caught so many that we just began to catch and release em…had to drive away while the fish were still biting. Will give you some more information tomorrow anglers interested in booking a fishing trip can you call or text me at 818-439-1154 for more information.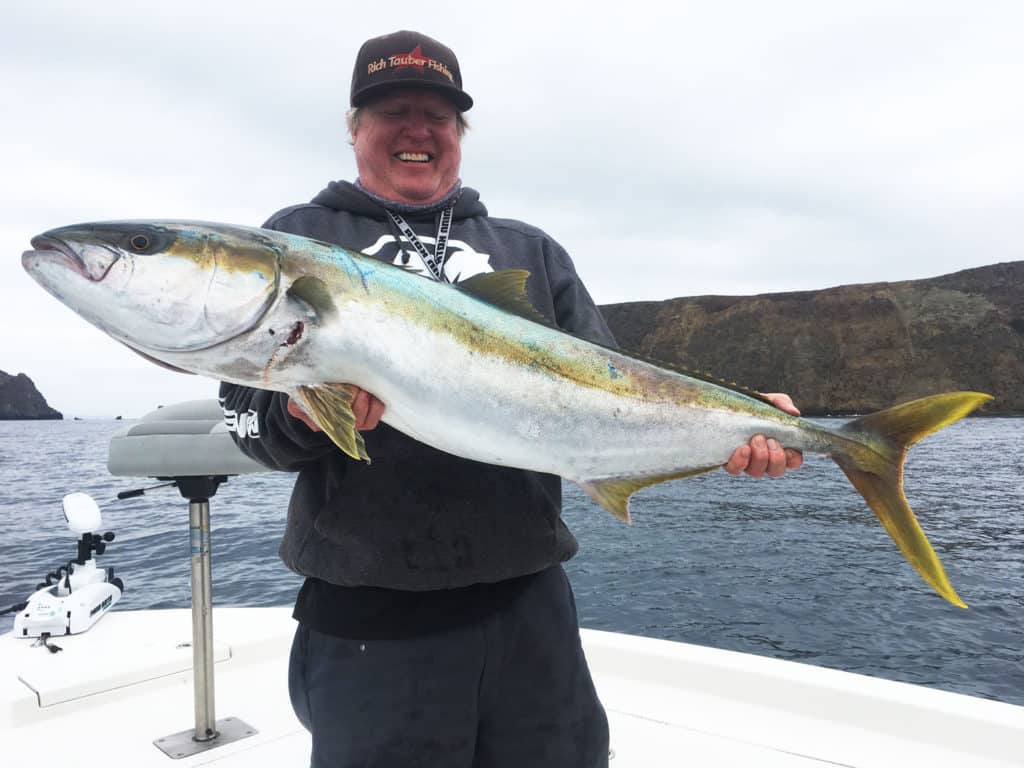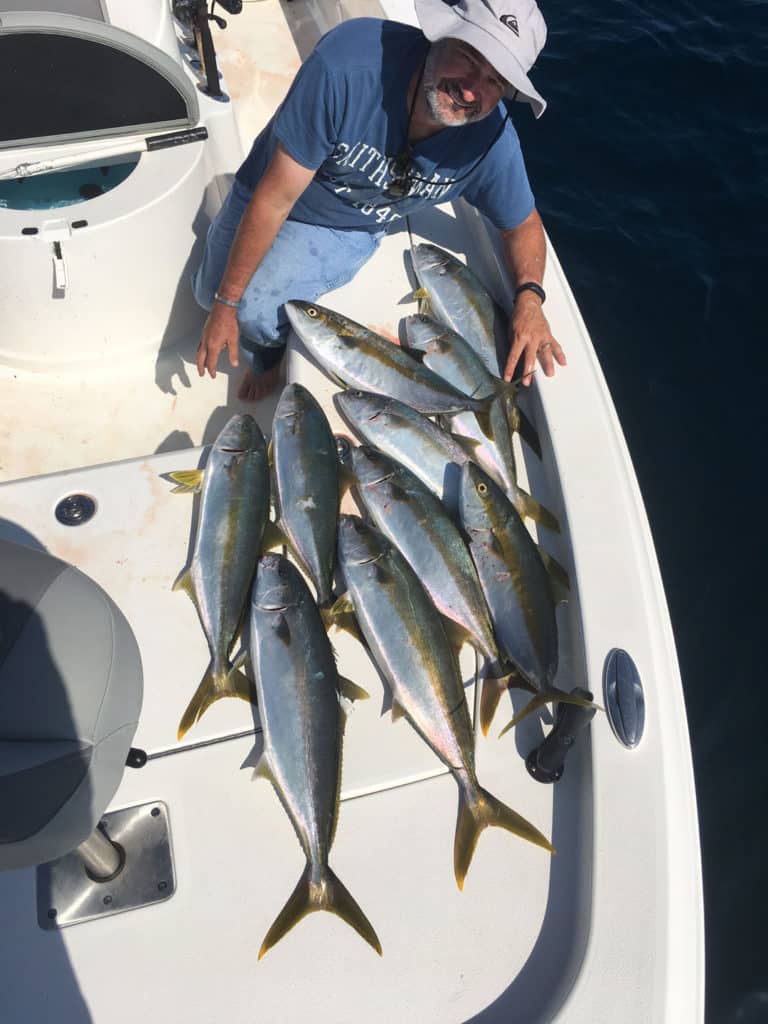 Lake Casitas Bass Fishing Guide Service – 09/18/2017 – Here is Michael fishing with his father Bob who is visiting from the Massachusetts area and they have their hands full of 4 to 6 pound Lake Casitas largemouth bass. Both of them caught their personal best today as we had tremendous fishing with live shad fished on 6 pound test line. Lots of fish and hardly anyone on the water Southern California's best kept secret Lake Casitas! If you're interested in getting involved with the fantastic fishing call or text me at 818-439-1154. We are open seven days a week and supply all the rods, reels and tackle you will need for the day. Book your fishing trip and we take care of the rest 🙂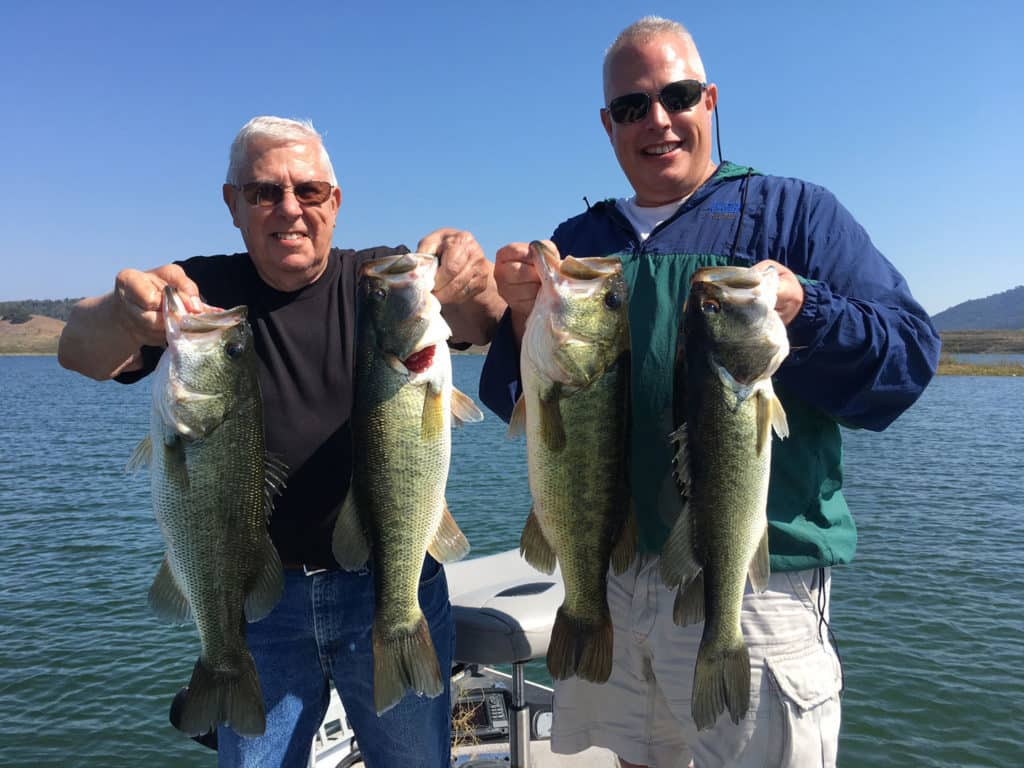 Saltwater Fishing Charter Report 09/17/2017 – Today we took returning anglers Alex, Mario and nick out. We left at 6am and headed away from the cluster of boats leaving the harbor and we headed up the front side of Santa Cruz Island. Deciding to try and catch a surface fish first, we put out the troll rods and started to look for breezers. After seeing signs of fish but not just right it seemed like it was a time of day deal. We picked up one nice bonito on the troll then switched gears to rockfish as the guys wanted some fish for a fish fry. We worked very small spots and plucked at very nice quality chuckleheads, and red snappers. Ended up with limits of rockfish just in time to go back in the shallows in the afternoon. As predicted, the time of day and sunshine brought the surface fish up to play. Big breezers of bonito and barracuda were seen everywhere. We would slide in and the guys would be double and tripled up on wide open bonito and calico bass mixed in on every slide. The guys were very patient and stuck it out all day as we looked for quality not quantity and it paid off. Overall really fun day of fishing. You guys were a pleasure and can't wait to fish with you again. – Captain Jake Klinshaw
Saltwater Fishing Charter Report 09/14/2017 – Headed out of the harbor at 6am on Sunday with anglers Rick, Tom, and Frank. Some unexpected weather made the crossing a little slower and after the guys suited up, we watched a beautiful thunder and lightning storm at a safe distance that made the crossing pretty neat. Really tough conditions at the island made fishing tough. The guys stuck it out in hopes of hooking a yellow. Really good sign of fish but the weather front had them lockjaw. Had one small halibut for their efforts. Switched gears and fished for bass in the boilers. The wind on the outside kept us limited to a small area that we could fish. Within it, The guys had a couple doubles and lots of single fish to be had but smaller grade and slower. Towards the last part of the day, we shot to the beach and had wide open bass fishing to finish off the day in a good note. The guys were very patient and it paid off. Thanks again fellas, it was a pleasure. – Captain Jake Klinshaw
Lake Casitas Fishing Guide Service – 09/13/2017 – Here is James this morning with a 20 pound plus bag in his hands topped off by a 6 pounder. An absolutely fantastic picture with so much excitement. All of these fish were taken flylining live shad on 6 pound test line. It's September and we have some of the best fishing in the Southland. Anglers interested in fishing live shad and catching lots of big fish can call or text me at 818-439-1154. Lake Casitas is the place to be and we have a few openings anglers can also go to www.richtauberfishing.com click the book online button and purchase their trip right now.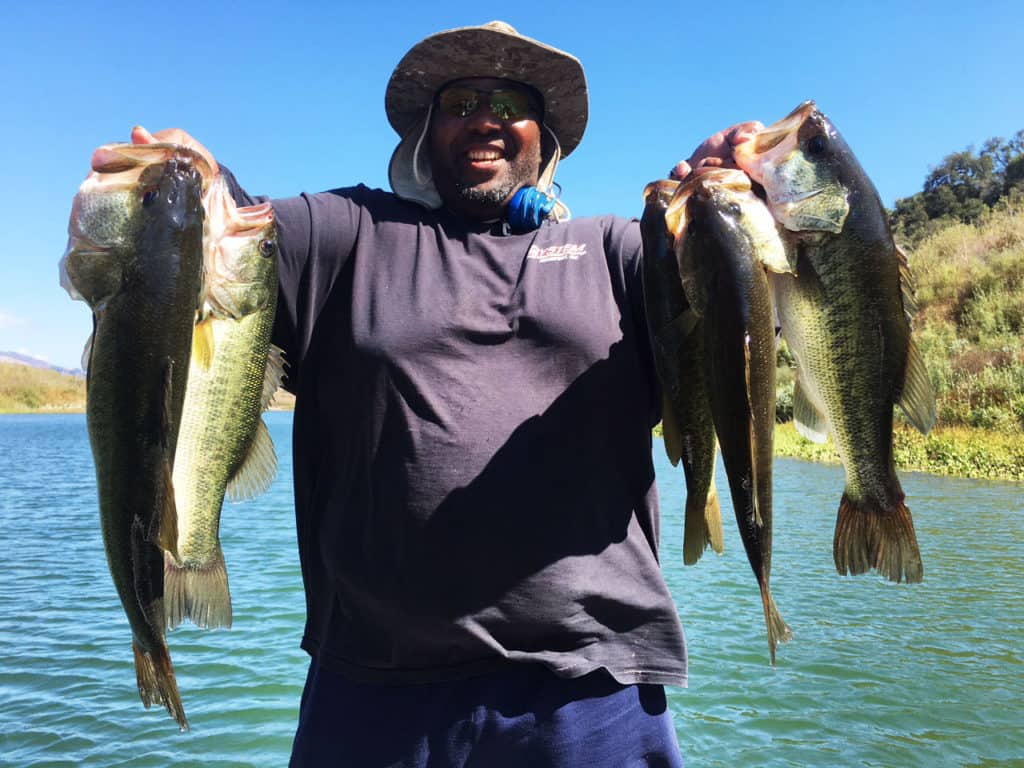 Castaic Lake Fishing Guide Service – 09/11/2017 – It's not all about striped bass at Castaic Lake in Castaic California here is John this morning fishing with RTF guide Michael Lander with a beautiful 5.95 pound largemouth. We're going to focus much of our attention starting October 1 on fishing striped bass at Castaic Lake but wanted to share this great picture from this morning's action. Anglers interested in booking a trip anywhere here in Southern California can call or text me at 818-439-1154 for more information.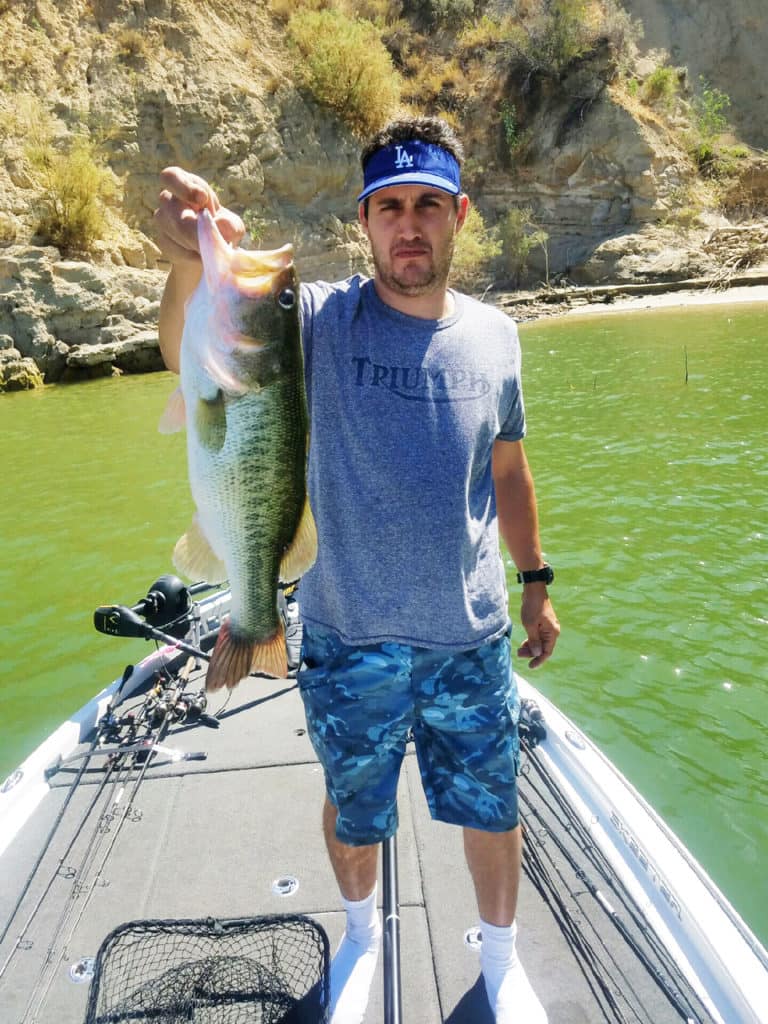 Weekly Fishing Video From Rich Tauber Southern California Bass Fishing Guide Service